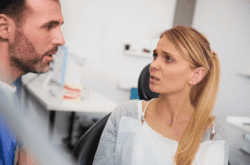 Surveys show that up to 75% of adults experience dental fear. In fact, anxiety is one of the leading reasons that people avoid their dental visits. Unfortunately, regular cleanings are more important than you might think. Skipping routine visits can let your small problems turn into big ones that are harder to treat. Regular maintenance is the easiest way to keep your oral hygiene routine easy. For people with severe dental anxiety, however, this may seem impossible. Fortunately, your comfort and education used in conjunction with as-needed sedation dentistry can help many patients to overcome their fear.
Education
The unknown can always be scary, and Dr. Ami Barakat, Dr. Belal Alani, Dr. Bilal Mammah and our entire staff make it our mission to take that fear away. We are always happy to answer any question, no matter how small. If you are unsure of your upcoming treatment, we will ensure that you fully understand the nature of your treatment. For many patients knowledge is power, and illuminating the nature of their treatment can ease a lot of anxiety.
Sedation Dentistry
For some patients, education isn't enough to eliminate fear even of routine cleanings. Regular preventative care is key to avoiding more serious procedures. For these patients, we offer sedation dentistry. We offer two sedative options: oral conscious sedation and nitrous oxide. Both options will allow you to stay awake and responsive, but relaxed and without fear. Don't worry, we won't put you to sleep! For many patients, staying awake makes sedation less scary.
Oral Conscious Sedation
Oral conscious sedation is a pill that is consumed orally. For some patients, you will need to take your fist dose at home. This will give the sedative time to start working. Oral conscious sedation starts working slowly and wears off slowly too. For this reason, you will need someone to drive you both to and from your appointment.
Nitrous Oxide
You may know nitrous oxide by its other name: laughing gas. Laughing gas is considered very safe – dentists have been using it for over 150 years! Nitrous oxide is inhaled through a special mask. The best thing about this option is that it is only really effective while the mask is in place. It starts working quickly and wears off quickly, too. This means that you can drive your self to and from your treatment!
Your Comfort is Our Goal
At Villanova Dental Studio our mission is to make you as comfortable as possible. Our warm, welcoming office is designed to set you at ease. We strive to build strong, lasting relationships with our patients and the community so that they feel safe visiting the dentist. Our friendly and highly trained staff are ready to do what it takes to put your fears and discomfort to rest.
Schedule an Appointment
If dental anxiety has kept you from visiting the dentist, consider Villanova Dental Studio. Our relationship-based approach is able to make lots of people comfortable. For those who are still afraid, we offer several options for dental sedation. To schedule your appointment, contact Villanova Dental Studio in Stittsville, ON online or at (613) 836-9084.