Dental Implants Ottawa, ON
Dental implants, also called "tooth implants" are designed to permanently replace missing teeth. Implants function as a prosthetic root system and combined with a dental restoration, dental implants look and function like natural teeth.
Dental implants Ottawa are the gold standard for replacing missing teeth due to their long-term benefits for the health and function of the teeth and gums. Villanova Dental Studio dentists offer all-inclusive dental implant services under one roof in Kanata, Ottawa, and Stittsville, ON.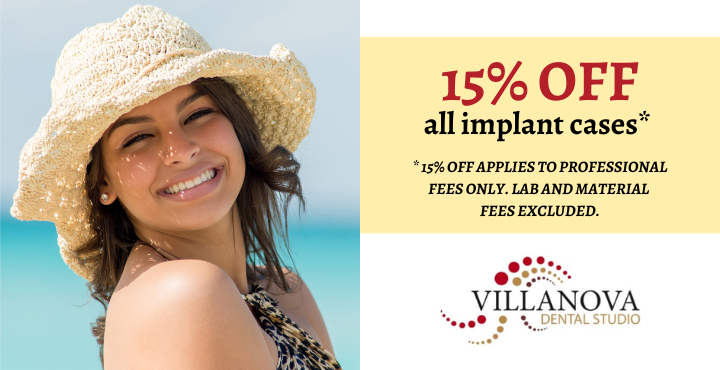 ---
Complimentary Ottawa Dental Implant Consultation
Villanova Dental Studio dentists offer complimentary consultations for dental implants in Kanata, Richmond, dental implants in Stittsville and Ottawa. We welcome new and returning patients from all over the Ontario Providence. If you are missing teeth, contact our Ottawa dentist office or schedule your consultation online here.
---
Benefits of Dental Implants Ottawa
Highly Durable
Improved oral health
Permanent restoration
No need to alter adjacent teeth as with dental bridges
No slippage as with dentures
Look and feel like natural teeth
Comfortable fit and function
No dietary restrictions
Types of Dental Implants Available in Ottawa
There are several different ways dental implants can be used to replace missing teeth. The type of implant procedure used will be determined on an individual basis. Dr. Sassi will analyze the patient's oral health, availability of healthy bone structure as well as the number and location of the missing teeth.
Single tooth implant
Multiple teeth implant
Implant supported denture
---
Dental Implant Restoration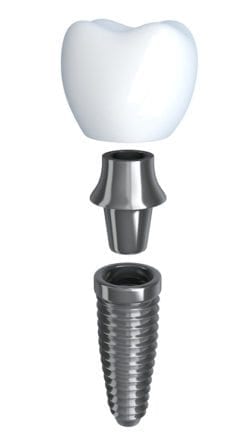 The type of dental restoration will be determined by the number and location of the missing teeth. Dental crowns are used to replace a single missing tooth, while bridges are more suitable for multiple missing teeth. Dental implants can also be used to secure a full denture for improved oral health and function.
Abutment
Once the implant post has healed, your Ottawa implant dentist will attach a small abutment to the top of the implant. This abutment will protrude from the gum line and act as an anchor for the dental restoration.
Dental Implant Post
The dental implant itself looks much like a small threaded screw. This piece is surgically implanted into the jaw bone replacing the missing root structure. The biocompatible nature of the post's material fuses with the bone helping to stabilize the bite and jaw.
---
Ottawa Dental Implant Procedure
Our dentists provide comprehensive dental implant treatment plans for consistent and predictable results. The dental implant procedure will typically be completed in about three visits to our Ottawa, ON dentist office. Our dental care team will guide the patient through consultation, implantation, and the final restoration.
Replacing missing teeth begins with a thorough exam and analysis of the patient's oral health, jaw, and bone structure. The dentist and patient will build a treatment plan that will detail the needed dental procedures to restore oral health. The type and number of dental implants needed will be determined by the number and location of missing teeth and the patient's overall oral health and structure of the jaw bone.
Dental implants are made of high-quality biocompatible titanium. The nature of the implant allows it to integrate naturally with the bone stabilizing the bite and promoting bone regeneration. Dental implants require a significant amount of healthy bone and gum tissue for successful retention. If a patient does not have enough bone structure, bone grafting may be required for a successful implant.
Once a treatment plan has been laid out, a date will be set for the surgical implantation of the implant(s). The titanium post will be placed in the root socket of the missing tooth. The post typically takes around 3-6 months to fully heal and integrate with the bone, a process called osseointegration.
After the implanted post has fully healed, an abutment will be attached to the implant. The abutment is used to securely fasten the dental restoration. During this phase, a high quality, natural-looking and durable dental restoration will be designed and fabricated for a beautiful result. Your dental crown, bridge or denture can be personalized in size, shape, and colour to match your natural smile.
Caring for Dental Implants
Dental implants are designed to be a permanent dental restoration. With proper oral hygiene, dental implants can last a lifetime. While dental implants do not require any special maintenance, they do require regular brushing, flossing, and routine visits with your Ottawa implant dentist.
Patients who brush twice a day, floss and receive biannual dental cleanings from our office should enjoy a lifetime of healthy, happy smiles.
Patients with dental implants enjoy the benefits of being able to eat a regular balanced diet without any dietary restrictions. As with natural teeth, chewing extra hard or sticky foods could crack or break the implant. Chewing ice and hard candies should be avoided.
Dental Implant FAQ's