Are Dental Crowns right for me?
Dental crowns may be recommended to treat a wide range of restorative and cosmetic dental concerns. A dental crown covers the entire tooth and is permanently bonded into place. The crown provides strength, aesthetics and lasting durable function.
Dental crowns are stain and decay resistant and can last for many years. These restorations can be colour-matched to blend seamlessly with your smile for beautiful results.
Dental Crowns Can Fix:
Damaged, chipped or cracked teeth
Discolored teeth
Misshapen teeth
Reinforce a tooth with a root canal
Strengthen anchor teeth for dental bridge
We may recommend a dental crown to help restore your dental health or to address cosmetic concerns. They are highly durable dental restorations that look and function like natural teeth. They can be made of many different materials such as metal, ceramic, porcelain with metal, zirconia or a combination of porcelain and zirconia.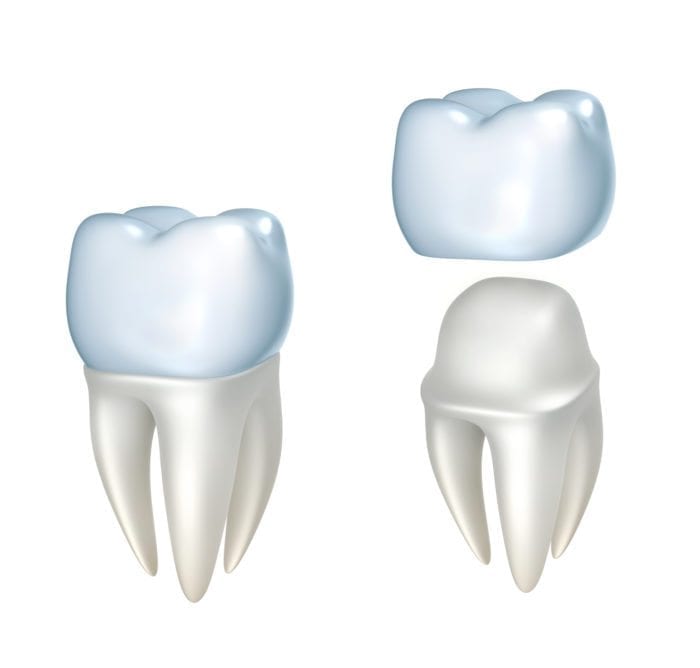 The Dental Crown Procedure
Through a comprehensive oral health exam, your dentist will determine if a dental crown is an appropriate treatment to restore your smile. Your dental crown will be designed using digital imaging of your teeth and gums. The crown can be molded to match the shape, size, and color of your natural teeth. Here are the general steps we take to place a crown:
Our dental team will first Take x-rays of your teeth. This will help us determine if you need a crown, or a different procedure to save your tooth.
If we determine that you are a good candidate for the procedure, Dr. Barakat will begin by numbing the area around the infected tooth.
Once numb, he will begin to gently file away part of your tooth to make room for the restoration.
After the tooth has been fully prepped, we will take impressions of the tooth. This is done to create a perfect fitting, custom dental crown.
After the crown has been created, Dr. Barakat will cement the crown on your tooth.
CEREC Dental Technology
Villanova Dental Studio uses CEREC, state of the art CAD/CAM technology for the design and fabrication of dental crowns during one visit. CEREC uses professional grade dental porcelain to carve custom designed dental crowns. We will use digital imaging to take impressions of your mouth and create the restoration for a perfect fit.
In most cases, dental crowns can be made with CEREC while you wait! You can get your beautiful smile refreshed in just one visit to our dentist office. If necessary, Dr. Barakat will coordinate with Classic Labs to create a custom restoration for the most natural results.
Dental Crown FAQs
Do I always need a dental crown after a root canal?
Yes, almost all root canals should be reinforced with a dental crown. Without structural reinforcement, your tooth becomes very susceptible to further decay, fractures, and tooth damage. Your tooth can also develop permanent sensitivity to hot and cold foods if not properly protected.
Is getting a dental crown a painful procedure?
No. Your affected tooth will be numbed so that there is no pain during the crown preparation. The process is like getting a dental filling. Your tooth may be sensitive to hot and cold foods for a couple of hours, but this temporary sensitivity will go away after your tooth gets used to the new crown.
Can you whiten a dental crown?
No, dental crowns can not be brightened with normal teeth whitening treatments. They stain over time due to normal wear just like your teeth do, however their level of staining is usually less significant than that of natural teeth. You can try at-home techniques to keep your teeth from staining, such as a rinse comprised of baking soda and salt water.