Does your child have difficulty chewing? Does their teeth slant outward and not make a connection when their mouth is closed?
An open bite can make speaking and chewing food difficult, especially in developing children. An open bite means that some of the teeth are not making contact because they are slanted. It is commonly caused by a skeletal problem, but habits such as thumb sucking can also contribute to the issue.
Stittsville dentist, Dr. Ami Barakat can evaluate your child to determine if they have an open bite, or are at risk for developing the issue in the near future. Prompt and effective treatment can prevent a range of dental concerns from advancing throughout life.
An untreated open bite can hinder speech development. It can also help spread tooth damage. Open bites are best treated if addressed early. Untreated open bites may create more complex oral health concerns down the road. Open Bites are common in children who suck their thumbs or practice tongue thrusting. Both of these issues are asily preventable with proper dental visits, and patient education.
Early diagnosis is key in successful and conservative treatment. Dr. Barakat will evaluate your child's open bite and determine the best course of action. Visit Villanova Dental Studio for a comprehensive consultation. We will find the root cause of the issue and work with you to address all dental concerns.
Treatment for an Open Bite in Ottawa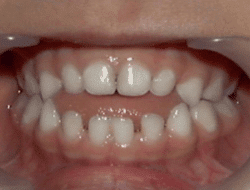 Dr. Barakat offers treatment that can address the underlying cause of an open bite in young patients. We use custom-made oral appliances that work to curb your child's bad oral habits. In some cases, early treatment can avoid the need for braces by stopping the myofunctional habit that is causing the open bite. For this reason, it is important to bring your child in early for a consultation.
Addressing certain habits early can allow normal speech development to resume and the bite to correct itself as the permanent teeth grow in.
Treatment for an open bite may include the following:
Traditional braces
Myobrace removable intra-oral appliance
Oral surgery to correct skeletal issues
---
Myobrace Orthodontics
Could orthodontic treatment be the solution for your child's open bite?
Many patients don't want to experience the embarrassment or inconvenience of metal braces. For those who need mild to moderate orthodontic treatment to address crooked teeth before they become huge issues, Myobrace may be the perfect solution. Myobrace is an orthodontic alternative to metal braces for children.
Ottawa dentist Dr. Barakat is a Myobrace provider and often recommends this as a pre-orthodontics treatment option. Myobrace can gently and gradually straighten teeth that are crooked or misaligned. Myobrace can treat a variety of bite problems such as open bite, cross bite, and overbite.