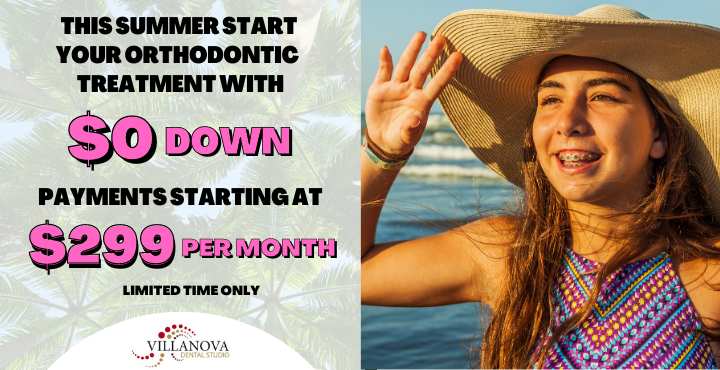 Do you have a serious issue with crooked teeth? Are they causing speech issues, or trouble eating?
Crooked teeth or a misaligned bite can create a range of complex dental complications. Crooked teeth are often the underlying cause of complex dental concerns. Problems such as an imbalanced bite, worn down teeth, and TMJ disorders can arise without dental intervention. If you have misaligned teeth that are causing issues, seek treatment from Villanova Dental Studio today.
Traditional metal braces are a highly effective treatment option for bringing balance and beauty to your smile and bite. Traditional metal braces is the tried-and-true method to treat all crooked teeth issues.
From minor misalignment to complex malocclusion, we have created a more comfortable bite and great long-term results for many patients. Metal braces allows our dentist in Ottawa ON, Dr. Barakat, to make refined adjustments for optimal results.
Benefits of Traditional Braces
Although traditional braces are not as popular as Invisalign and Myobrace, they are still a very effective treatment. All ages can benefit from traditional braces.
Provide permanent tooth straightening
Can balance and realign bites effectively
Can correct more complex orthodontic concerns
No need to remove and replace every week or two
Dr. Ami Barakat has years of training and experience providing comprehensive orthodontic treatments to patients of all ages. Our Ottawa, ON orthodontic office provides early diagnosis and multiphase treatment for children. You can expect far superior results with little downtime.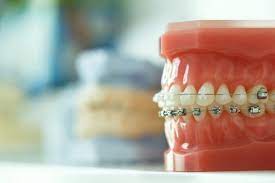 ---
Traditional braces are used to treat advanced malocclusion, and the cosmetic concerns associated with crooked teeth. Dr. Ami Barakat provides patients with a thorough oral health exam and bite analysis to determine the best orthodontic treatment option. We will only recommend treatments that best fit your individual concerns and unique smile.
The process to get traditional braces is straightforward. Metal brackets are adhered to your teeth, and tightened over time to gently shift the teeth into alignment.
Dr. Barakat is able to make precise adjustments to ensure teeth are aligning properly. For some patients, orthodontic appliances may be used in conjunction with traditional metal braces.
Self Ligating Braces in Kanata, ON
Self-ligating braces eliminate the use of plastic or metal bands traditionally used to anchor the wire into place. Self-ligating braces use slide mechanism technology that encases the arch wire.
They gently reposition your teeth without the need for tightening and frequent visits to the dentist. They are becoming more and more popular with our patients because of the many benefits.
Benefits of Self-Ligating Braces
Shorter and more effective treatment
Fewer visits to the dentist
Fewer adjustments and tightening
Less impact on tooth surface
Reduced risk of enamel damage and discoloration
Easier to clean and remove food debris
Dental Monitoring
Dental Monitoring is an innovative technology that revolutionizes the way orthodontic treatment is monitored and managed. Patients use their smartphones to capture images of their teeth and submit them through the app. The images are then analyzed by our doctors using artificial intelligence algorithms to evaluate tooth movement, treatment progress, and oral health. It eliminates the need for frequent in-person appointments, reducing travel time and inconvenience. The real-time monitoring provided by Dental Monitoring enables early detection of any issues or complications, allowing for timely intervention and adjustments in treatment plans. Additionally, it promotes patient engagement and compliance by providing personalized treatment updates and reminders. Overall, Dental Monitoring improves the efficiency and convenience of orthodontic treatment, enhances patient experience, and contributes to achieving optimal treatment outcomes.