A dental bridge, or a partial fixed denture, is used to replace lost or missing teeth. It can be used to replace one tooth or may be used to replace multiple consecutively missing teeth. Replacing missing teeth is important for restoring the aesthetic and oral health to your smile.
A dental bridge can be used to replace teeth that need to be extracted, or teeth that were previously lost.
Villanova Dental Studio offers a range of missing teeth replacement options including dental bridges. Using the latest in dental technology and techniques, today's fixed dental bridges are natural looking and allow for better function when compared to traditional options.
A dental bridge requires healthy surrounding teeth or the placement of dental implants for support. The bridge holds prosthetic teeth and uses the adjacent teeth as support to hold the bridge in place.
A dental crown may be used to reinforce the structure of the supporting teeth if natural teeth are being used. A dental bridge can also be secured using a dental implant to avoid compromising the integrity of existing teeth.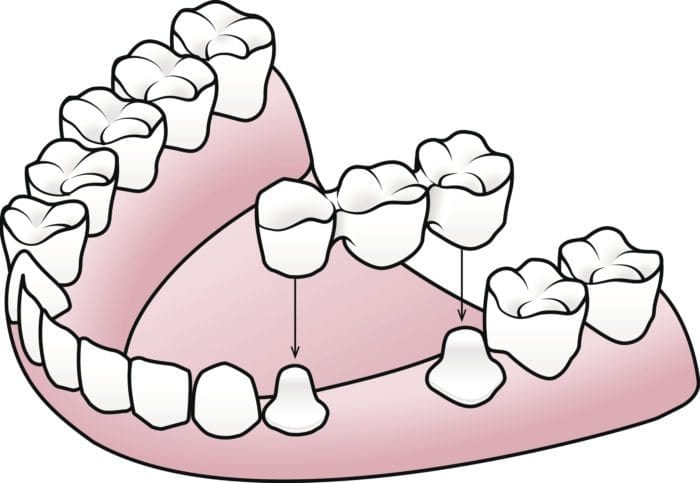 DENTAL BRIDGES WHAT TO EXPECT
Dr. Barakat and his dental associates offer a range of treatment options for replacing missing teeth. Dental bridges are a more economical treatment option that can improve the aesthetics of a smile.
Treatment for replacing missing teeth will be determined based on a patient's individual goals, oral health, and budget.
DENTAL BRIDGE VS DENTAL IMPLANTS
For patients considered good candidates, a dental implant is often the recommended option when replacing a single missing tooth or securing a dental bridge. The important oral health benefits that implants offer will support long term dental health as well as provide the most natural function and aesthetics.
METAL-FREE DENTAL BRIDGES
Villanova Dental Studio uses metal-free, porcelain dental restorations. Porcelain dental bridges have a  more natural aesthetic and added oral health benefits in comparison to traditional metal supported bridges.
Porcelain dental bridges are:
Less sensitive to temperature
Shaped like natural teeth
Colour matched to your surrounding natural teeth
Natural function and aesthetic
Your Villanova dentist will explain all aspects of your dental bridge procedure with you to ensure you are comfortable during your treatment. Based on your oral health, your dentist will help you choose if dental crowns or implants will yield the most lasting and natural looking results for securing your bridge.