Do you show more gums than teeth when you smile?
Having a gummy smile is a common complaint among patients. A gummy smile shows more gum than tooth. It can create an imbalance in your smile, and be a cosmetic issue for some. Correcting gummy smiles once required invasive surgery, and long recovery periods. Laser dentistry now allows for minimally invasive and highly effective treatment with little to no downtime.
Cosmetic dentist in Ottawa ON, Dr. Ami Barakat offers Laser dentistry and state of the art gum contouring treatment options. Laser therapy can restore the gum-to-tooth ratio for a more balanced and beautiful smile. In recent years there have been major advancements in gum contouring treatment using dental laser technology. In essence, it is a painless procedure using light to recontour your gum line.
Dr. Barakat uses the Waterlase MD dental laser as a minimally invasive option for recontouring your gum line with greater precision and fewer side effects. This system offers less pain, greater accuracy, little downtime, and faster recovery.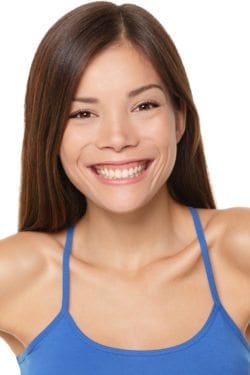 Waterlase MD Laser Treatments for Gummy Smiles
The Waterlase MD laser can be used to treat a range of dental health concerns affecting your gums and teeth. Laser dentistry can be a convenient and effective alternative to traditional gum surgery. Some tasks that laser dentistry can conduct to improve your smile include:
Contour an uneven or arch-less gum line
Lengthen appearance of short teeth
Remove excess gums between teeth
Straighten a crooked gum line
The system uses a combination of laser light, water spray, and air to remove very precise amounts of your gums. The precision is far superior than traditional drills, and can often replace the need for anesthesia. Dental lasers have been used for many treatments because they are versatile and very precise. We not only use Waterlase for gum contouring, but we can also use it for periodontal therapy, cavity removal, and much more.
The Benefits of Laser Dentistry
Waterlase MD laser therapy can often eliminate the need for traditional gum surgery. It has been proven to be effective and practically non-invasive. The Waterlase laser eliminates the need for sutures, and allows for minimal downtime after treatment. This procedure also reduces swelling, bleeding, and discomfort.
Laser dentistry also promotes natural healing and cell regeneration for healthier gums, reducing the risk of infection. A balanced gum to tooth ratio can help you feel more confident in your smile and may even improve your quality of life. Waterlase MD Laser dentistry can be used as part of your smile makeover to enhance the aesthetics of your natural smile.
Gum Recontouring FAQs
Gum contouring may take anywhere from a few days to a few weeks to heal. It is dependent on the severity of surgery and how your gums respond to treatment. Most patients lay low and refrain from strenuous activities for a day or two post gum contouring.
The effects of gum contouring are permanent. Patients should not expect their gums to return to their original state after treatment. Your gums will not grow back.
After gum contouring patients should practice their oral care routine regularly after gum contouring, but be careful in the gum area that was contoured. It is recommended to rinse with saltwater to keep your mouth clean and reduce any inflammation.