Root canals in Stittsville Ontario
Root canals are a popular dental procedure at Villanova Dental Studio. They are an effective and conservative treatment option to fix damaged teeth. We do our best to save your natural tooth from the need for extraction. Root canals are often a preferred method of treating advanced tooth decay or tooth damage.
This procedure allows your dentist in Stittsville Ottawa to preserve your natural tooth for a more stable oral foundation. Advancements in modern dentistry have made root canals less uncomfortable, more effective and relatively painless.
Are you experiencing tooth pain?
For many patients, it is the infection itself, not the root canal procedure that is painful. Some patients will feel substantial pain relief after their treatment. The pain is coming from the diseased tissue that tooth decay creates. Once this tissue is removed and the infected area is thoroughly cleaned, your pain almost immediately goes away.
Dr. Ami Barakat and our entire dental care team will help every patient feel comfortable and relaxed during their treatment. Our staff is highly trained in Endodontics and provides thorough and effective root canal procedures. Advanced tooth decay and damage should always be treated as soon as possible.
Root Canal Process at Villanova Dental Studio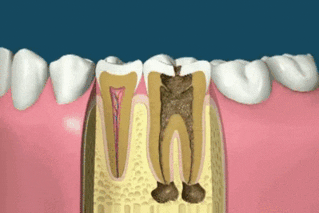 Your root canal procedure can usually be completed in just one visit to our Stittsville dentist office. To begin, the area to be treated will be numbed with the use of local anesthesia.
Once numb, your dentist will make a tiny hole in the back of the tooth. The diseased pulp of the tooth will be removed from the interior of the tooth. The tooth will be thoroughly cleaned and filled with a biocompatible material. This material will fill the tooth, stabilizing it and sealing it off from future decay.
The last step of most root canals is fitting the tooth with a dental crown. Dental crowns can help strengthen the tooth and support a more stable bite. Crowns will protect the tooth from further decay as well. Modern dental crowns can be color-matched to neighboring teeth for an unnoticeable result. We can also use crowns in cosmetic dentistry to cover deep tooth stains.
Sedation Dentistry
Some patients suffer from dental anxiety that prevents them from receiving the dental care they need. Root canals have a bad reputation, and many patients fear the procedure. However, left untreated, an infected root canal can cause a patient to experience a lot of pain, or even tooth loss. Our dental care team offers sedation dentistry options to help patients feel completely relaxed during their treatment.
Your dentist will discuss the options for sedation with you during your consultation. We have created a judgement-free dental environment, and only want for you to receive the best dental care possible.
FAQs
Root canal's are one of the most feared procedures by patients who have never undergone one. This pain is often over exaggerated. During the procedure you will be completely numb and may feel pressure, but should not feel too much pain. After your procedure, your dentist will most likely prescribe you pain medication for any continuing discomfort you may feel over the next few days.
Though it's always best to consult with your dentist, there are a few signs that you may need a root canal including darkening of the tooth, a small pimple like bump near the pain, lasting sensitivity to hot or cold temperatures, and swelling in the gums surrounding the tooth.
Obviously, removal of the tooth will ensure that the cause of your pain is removed permanently, but many patients and dentists alike prefer a root canal over removing the tooth completely. This keeps your natural smile, decreases jaw bone loss, and promotes overall mouth and oral health.