There are a lot of different options for restoring your smile after tooth loss. Dental implants are a surgical procedure, which can make them frightening for some people. When considering your options, however, it is important to consider all of the possible benefits dental implants can provide.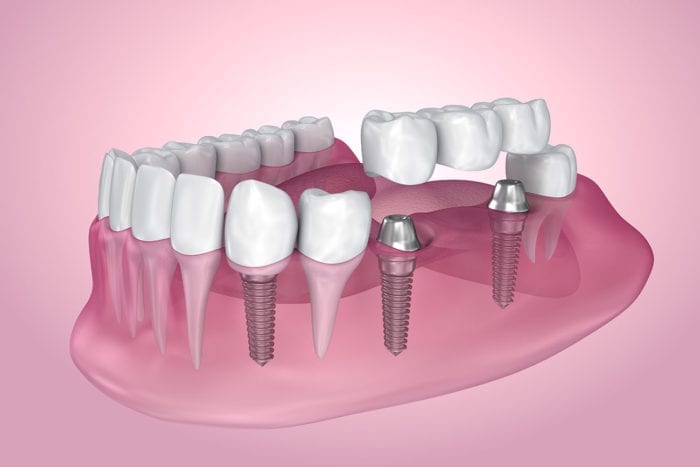 Secure and Permanent
Dental implants are placed using a titanium post set into the jaw. This mimics the root structure of the natural tooth to stabilize the jaw and provide sturdy, permanent support for the false tooth.
Comfortable
Because the structure of the dental implant so closely mimics that of the natural tooth, it should also feel like a natural tooth. Once healed, your implants should be comfortable and indistinguishable from your real teeth. No more wires or hard plastic gums – dental implants are minimal and almost unnoticeable.
Attractive
The plastic gums of dentures can make them look artificial. The wires supporting a partial denture can be visual and unsightly. The post securing your dental implants is completely invisible once the crown has been installed. The crown material is color-matched to your teeth and should replicate their appearance and shine so that your implants are entirely indistinguishable.
Easy Care
Because the crown material so closely mimics a natural tooth, no special care is required. Just brush, floss, and clean your teeth just as you would if you had no false teeth at all. You can even eat what you want – no more worrying about slippage or pain.
Durable
A good dental bridge should last around ten years with proper care. Dental implants, however, can be expected to last for thirty years or more. If they suffer some damage, a single crown is cheaper to replace than an entire bridge.
Schedule a Consultation
Do you have any questions? Concerns? Schedule a consultation with Villanova Dental Studio and we will be happy to set your mind at ease. To schedule, contact our Stittsville, ON office on our website or at (613) 836-9084 or (613) 927-9905.