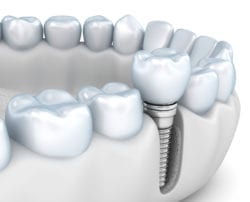 Many of our patients visit our office looking for solutions to replace their missing teeth. Whether you are missing one or several teeth, Dr. Barakat and his compassionate team at Villanova Dental Studio would be happy to consult with you on your options for tooth replacement. Often, we will recommend dental implants because of how many benefits they offer our patients. Here are the top three benefits that you will get when you choose dental implants as your method of tooth replacement:
Look and feel like natural teeth
One of the major benefits of dental implants is that they offer patients the look, feel, and function of natural teeth. Dental implants include a surgically implanted post that fuses together with your jawbone to give your tooth restoration the durability of your natural teeth. The post acts as your tooth roots, meaning that when topped with a dental crown, it blends in seamlessly with your smile while also functioning just like a natural tooth. With other dental restorations such as dental bridges, you may have to deal with dietary restrictions to maintain the longevity of your oral appliance. However, with dental implants, all of the pieces of your restoration are protected by your own soft tissue. There is also no need to alter adjacent teeth as with dental bridges.
Permanent, multifunctional restoration
Dental implants, also called "tooth implants" are designed to permanently replace missing teeth. Patients who brush twice a day, floss and receive biannual dental cleanings from our office should enjoy a lifetime of healthy, happy smiles with dental implants. There are several different ways dental implants can be used to replace missing teeth. The type of implant procedure used will be determined on an individual basis. Dental implants can be utilized in a variety of ways, whether you are replacing one or several of your teeth. Our office currently offers single tooth implants, multiple teeth implants, implant supported dentures, and mini implant. During your restorative dentistry consultation, we will discuss with you which method of implant dentistry will best meet your dental health needs and cosmetic goals.
Improved oral health
Replacing missing teeth has more than just cosmetic benefits. Many issues arise when you are missing teeth. Over time, the added strain that the missing tooth puts on your remaining teeth can cause dental damage or even jaw pain. Additionally, patients with missing teeth struggle to maintain their oral hygiene because the missing tooth creates new spaces in their mouths for bacteria and food residue to cling to. When you invest in replacing a missing tooth, you are investing in your overall oral health. Villanova Dental Studio is currently offering $250 off an implant, plus free consultations. This means that there has never been a better time to consider implant dentistry. Please schedule your free consultation today, and we look forward to seeing you soon.