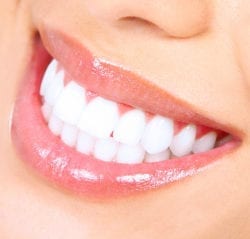 Transitioning to a new season is always an exciting time, especially when it comes to making changes to your smile. Whether you are starting back to school, planning a vacation, or getting ready for the upcoming holidays, now is as good of a time as any to pursue cosmetic dentistry solutions and better your smile. If you're ready to make a change to your smile's appearance, here are three cosmetic dentistry solutions to consider:
Teeth Whitening
Brightening the shade of your smile is an efficient and cost-effective cosmetic dentistry solution to pursue. Dull, yellowed teeth quickly age your smile and your overall appearance. While it is completely natural for our smiles to yellow as we age, it's not always a welcomed change. To help with this, Villanova Dental Studio offers teeth whitening services. With an approximately one hour treatment, our Iveri system leaves teeth up to 8 shades whiter. Iveri technology uses a special LED light in combination with a uniquely formulated whitening gel to remove years of stains and whiten teeth. During your next lunch break, consider a visit to Villanova Dental Studio so that we can show you the difference our teeth whitening solutions can have on your smile.
Invisalign
Straightening your smile doesn't have to be a huge undertaking. In fact, with Invisalign clear braces, it's easier than ever to straighten your teeth. Crooked, misaligned teeth cause more than just cosmetic concerns for your smile but also cause issues with the functionality of your dental structures while performing daily tasks like chewing or speaking. To help with this, Invisalign clear aligners apply small amounts of pressure to your teeth while being worn and encourage them to shift into a straighter position. Don't worry about any dietary restrictions or extra steps in your oral hygiene routine. Invisalign can give you the same straightened results that traditional braces do, only without all of the inconveniences.
Porcelain Veneers
For patients seeking the ultimate smile makeover, we suggest porcelain veneers. Porcelain veneers are similar to dental crowns, only much less invasive. Attached to the front-facing portion of your tooth, porcelain veneers replace the exterior of your tooth while allowing you to maintain your natural tooth underneath it. Because porcelain veneers only require a small amount of enamel removal, patients will see a major difference in their smile's appearance without a ton of hassle. If you are interested in finding out more about what porcelain veneers or our other cosmetic dentistry solutions can do for your smile, schedule a cosmetic consultation with Dr. Barakat today. We look forward to helping you achieve your dream smile.