Both dentures and dental implants are used for replacing missing teeth. But how do you know which one is the right choice for you? Dr. Ami Barakat of Villanova Dental Studio, a dentist in Kanata, ON, discusses both options.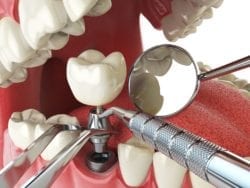 All About Dentures
Dentures are made of a resin and metal base that holds ceramic or plastic teeth. They're typically used to replace full arches of teeth, but partial dentures are available as well. The biggest benefits to dentures are that they cost less upfront and you can get your dental restoration sooner than you can with dental implants.
However, dentures do come with drawbacks. While they don't cost much upfront, you can incur additional costs down the road. When you lose a tooth, your jawbone starts to deteriorate. This process continues when you have dentures because they don't replace the tooth root. The denture will need readjusted or replaced as your mouth continues to change.
Many advancements have been made in dentistry over the years, but dentures are still a bit bulky and don't feel natural. They take a bit to get used to. They only give you back around 30-40% of your bite function, meaning some foods will have to be removed from your diet. Dentures also require finding the right adhesive to make sure they don't slip or fall out. Removable dentures need to be removed at night to be thoroughly cleaned.
The Benefits of Dental Implants
At Villanova Dental Studio, we recommend dental implants for tooth replacement. A dental implant is made up of three parts. First, the titanium post is the part that's actually placed in your jaw. Then, a piece called an abutment is used to attach the post to the final restoration. The final restoration is usually a dental crown, but dental implants can also support a dental bridge or fixed denture.
Dental implants are the only tooth replacement option that replaces the tooth root. Since they're placed in the jawbone, they spur jawbone growth so it fuses with the implant posts. This is why it takes longer to get your restoration. There's a 3-6 month healing process for the posts. But this is how you get the stability that dental implants are known for.
Because they replace the tooth root, you also don't have to pay to get them adjusted in the future. They actually spur bone regeneration and eliminate the sagging face that comes with jawbone deterioration. Dental implants give you back 100% of your bite function as well. You don't have to remove foods from your diet or worry about them slipping and falling out.
Implants both look and feel natural. There's no learning curve to getting used to them. They don't require extra maintenance, either. If you're brushing and flossing regularly and visiting your Kanata, ON dentist bi-annually, implants should last for years to come.
Tooth Replacement at Your Kanata, Ontario Dentist
Do you think either dental implants or dentures are the right choice to replace your missing teeth? Call us or schedule an appointment online.