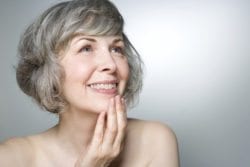 Many patients visit our Ottawa, ON dentist's office looking for solutions to replace one or more missing teeth. Missing or severely damaged teeth can be replaced via several tooth replacement methods. To give our patients a better understanding of their tooth replacement options. we've created this list as a reference. Please contact us directly if you have any questions or would like to schedule a tooth replacement consultation.
Dental Bridges
If you are missing one or more teeth, dental bridges are a common restorative option that we recommend. Utilizing the support of your surrounding teeth, the dental bridge holds a prosthetic tooth in place of the missing tooth. This is a minimally invasive procedure, but it does affect the structure of the supporting teeth. Some enamel will need to be removed to make space for the dental bridge. Additionally, dental bridges will require some dietary restrictions to maintain the longevity of your restoration. We recommend avoiding excessively chewy or crunchy foods for the sake of your dental bridge. Additionally, Dr. Barakat will need to go over how to care for your dental bridge following your appointment. He will show you how to clean around and under your dental bridge to avoid tooth decay.
Dental Implants
Considered the premier tooth replacement option, dental implants consistently receive high ratings from our patients.  This is because of the extensive benefits that they offer which cannot be found in other tooth replacement options. Dental implants restore the look, feel, and function of your missing tooth entirely. Involving a surgical procedure, the dental implant utilizes a titanium post which fuses together with your jawbone. As the post heals, this gives your restoration tooth-root functionality. Patients love this aspect of dental implants because it means no dietary restrictions. Dental implants are also great for patients who are uninterested in adding any extra steps to their oral hygiene routine. You can care for a dental implant just as you would a natural tooth–with good brushing and flossing habits.
Our office is currently offering a special on dental implants. Along with a free dental implant consultation, patients may be eligible to receive $250 off of a dental implant. This offer won't be around forever–please schedule an appointment ASAP if you are interested in dental implants. Now is the best time to give them a try!
Dentures & Partials
If you are missing a full arch of teeth, dentures and partials are the way to go. Customized to your smile, dentures and partials replace your missing teeth and restore your smile with a full mouth of prosthetic teeth. While some patients are concerned about the comfort and usability of dentures, we have the solutions for that as well. Often, we recommend patients consider dental implant supported dentures or partials. Just a few dental implants can make the world of a difference for denture users. The dental implants act as an anchor for your set of teeth and hold them firmly in your mouth for easier chewing and speaking.
Schedule An Appointment
You have plenty of options when it comes to tooth replacement options in Ottawa, ON. Let us help you decide which one will meet your needs best. Please schedule an appointment online with Dr. Barakat. We look forward to seeing you soon!