If you're missing a tooth, a dental implant is the most natural solution to replace it. You may not think that a single missing tooth is something to be overly concerned about, but even one missing tooth has a negative impact on your oral health. Dr. Ami Barakat of Villanova Dental Studio, a dentist in Stittsville, ON, explains the process of getting a single dental implant and why it's beneficial.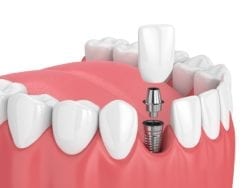 What's a Single Dental Implant?
A dental implant is made up of three separate parts. First, a titanium implant post is placed in the jawbone. Next, a piece called an abutment is attached to connect the implant post to the final restoration. For a single dental implant, the final restoration is a dental crown. The crown is custom-made to have the shade, size, and shape that blends in seamlessly with your smile.
Why Should I Replace a Single Missing Tooth?
Especially if it's in a fairly concealed location, you may not think a single missing tooth is something to worry about. But any missing tooth has a detrimental impact on your oral health and function. Depending on where it's located, a missing tooth can give you issues with biting, chewing, or speaking.
When you're missing one tooth, you're more likely to lose other teeth. The teeth that are around the missing one are more susceptible to tooth decay and gum disease. It can contribute to crooked teeth and odd gaps in your smile as well. Because there's now a hole there, the other teeth in your mouth try to fill in the space that's left.
Aside from just causing crooked teeth, a single missing tooth can also impact the way your bite comes together. Malocclusion can cause issues with TMJ disorders and the way pressure is distributed throughout your smile. Other people may become damaged because they're under more pressure. The jawbone in the area where your tooth is missing deteriorates rapidly, giving a sagging facial appearance and causing other issues.
Why Choose a Dental Implant?
Dental implants are often considered the gold standard of tooth replacement for a reason. They're the only option that replaces the tooth root as well as the crown. This puts a stop to the jawbone deterioration you experience and can even help reverse some of the damage that's already been caused.
A partial denture is the main other option you have to replace a single missing tooth. This doesn't replace the tooth root and the fit changes as your jawbone deteriorates. An implant gives you back full tooth function where a denture cannot. You can also keep your same diet and oral healthcare routine, without extra steps.
Lastly, a dental implant gives you the most natural look and feel. The dental crown used to finish the implant is perfectly designed to fit in with your smile. When you're biting and chewing, the feeling is similar to what you would experience with your actual tooth.
Dental Implants at Your Stittsville, Ontario Dentist
At Villanova Dental Studio, we strongly recommend a dental implant and all of the benefits that come with it. We currently have a promotion running where you can receive a dental implant for a discounted price! Call us or schedule an appointment online to learn more.