Patients with missing teeth may struggle with reduced oral capabilities and confidence in their smiles' appearance. Dental implants can be the ideal tooth replacement solution for these individuals.
There are several different implant designs that can help you, depending on your unique dental needs. Dr. Ami Barakat, a dentist in Stittsville, ON, describes three types of dental implants that can restore your smile after tooth loss.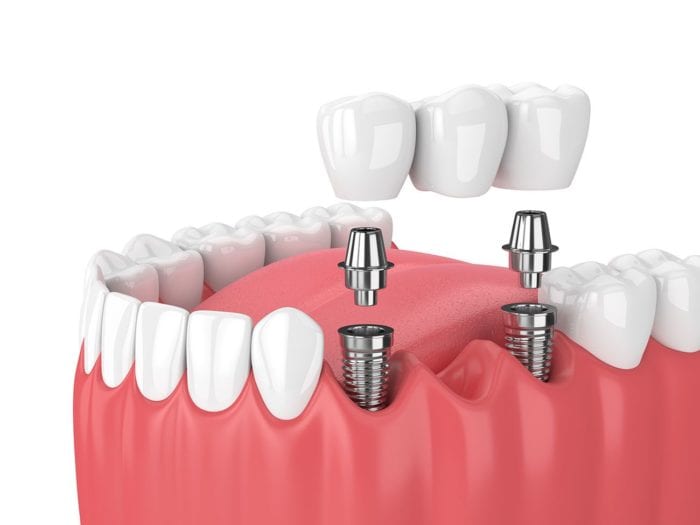 Single Dental Implants
A single dental implant features a titanium post that a dentist will surgically place into a patient's jaw. Once this heals, they will secure a prosthetic tooth or crown to an abutment above the gumline that attaches to this post.
The implant fills in the gap between teeth where a tooth was lost. This gives you an enhanced, natural look that can boost self-esteem as well as make it easier to eat and speak normally. A patient may benefit from more than one single dental implant if necessary.
Implant-Secured Dental Bridges
An implant-secured dental bridge consists of two surgically inserted titanium posts: one for each end of the bridge. A dental professional will then secure a dental bridge fixture to these two posts in the same way a crown is fixed to a single dental implant.
The bridge benefits patients missing several teeth in a row. The implant ensures that the tooth replacement solution is permanent, as opposed to other treatments like partial dentures. These fixtures may warp or break and become subject to slippage, while implants fit securely for a lifetime.
All-on-Four Dental Implants
All-on-Four dental implants replace an entire arch of teeth using four titanium posts. After a patient heals from the implant surgery, a dentist will secure an arch of prosthetic teeth to these posts. Some patients can replace both the top and bottom arches of teeth with All-on-Four implants.
Implants have the added benefit of ensuring jawbone health after tooth loss. Dentures replace teeth above the gumline, which does not stop bone from deteriorating in the jaw without stimulation from a tooth root. The titanium post from an implant replaces the missing tooth root, stopping bone loss and encouraging bone regeneration in the jaw.
Learn More About Dental Implants in Stittsville, ON
Villanova Dental Studio offers dental implants and other restorative dental treatments to patients in Stittsville, ON. Dr. Barakat also specializes in cosmetic and general dentistry for patients of all ages. To schedule a consultation or appointment with us, contact our office online or reach us by phone at 613.973.9899.