Dental Implants for a Permanent Solution
Villanova Dental Studio offers dental implants in their Kanata, ON dentist office to patients that are missing one or more teeth. Dental implants are the most natural-looking and advanced solution for the replacement of missing teeth.
Dental implants are now a routine procedure and offer the highest success rate and long-term oral health benefits. At Villanova Dental Studio, we offer several different options for dental implants. If you're missing one or several teeth, we will create a personalized treatment plan to restore beauty, health and function to your smile.
Our knowledgeable staff will educate you on the choices you have including dental implants to help you make the best decision for your long term dental health. We offer all-inclusive dental implant services under one roof at Villanova Dental Studio.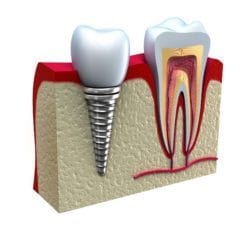 Why replace missing teeth?
Choosing dental implants or an implant secured bridge or denture is an investment in your long-term oral health. Missing teeth, left untreated, lead to decay, periodontal disease, and gum recession. Patients with just one missing tooth could experience deterioration of the jawbone, additional tooth loss, facial sinking and an unbalanced bite.
An unbalanced bite will lead to TMJ symptoms. The way you look and feel about your appearance can have negative consequences on your life. Dental implants are the most natural looking and permanent solution for tooth loss that we offer in our Kanata, ON cosmetic dentistry office.
Types of Dental Implants
The type of dental implant you receive will depend on the number and location of your missing teeth as well as your overall oral health. Kanata, ON dentist, Dr. Barakat, provides comprehensive dental exams and personalized treatment plans for each patient-tailored to their unique cosmetic goals, dental health concerns, and budget.
Single Tooth Dental Implant– Dental implants can be used to replace a single missing tooth. Dr. Barakat will place the implant post in the root canal. Once healed, the abutment will be attached, and a dental crown will be used to complete the restoration.
Dental Implant Secured Bridge– A dental bridge is often used to replace several consecutively missing teeth. Traditionally secured using prepared adjacent teeth; Dr. Barakat usually recommends securing dental bridges with dental implants. Implants provide more structural support for the jaw and bite and need less maintenance.
Dental Implant Secured Denture– Many patients struggle with ill fitted dentures. Dentures are prone to slipping or falling out, causing embarrassment for patients. Dentures can be secured using strategically placed dental implants. Dental implant secured dentures allow patients to enjoy a diet without restriction and can help patients feel more confident in their smile.
Mini Dental Implant– Mini implants allow patients with compromised bone structure to receive dental implants. For some patients receiving mini dental implants, they may be able to be fit with a dental restoration in just one visit. Mini implants allow dental restorations to be fixed on the same day as the implant surgery.
Complimentary Dental Implant Consultation
Dr. Barakat offers complimentary consultations for dental implants in Stittsville, ON and Kanata, ON area. We welcome new and returning patients from all over the Ontario Providence including Richmond, Stittsville, Ottawa and Kanata. If you are missing teeth, contact our Ottawa dentist office or schedule your consultation online here.