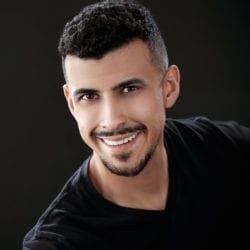 Dr. Mammah's philosophy, education and services allows him to create a comfortable environment where patients are listened-to and feel valued. His extensive background in continuing education, in addition to his own life-experiences, allow him to provide up-to-date clinical dentistry and above-and-beyond patient-care.
Philosophy
Dr. Mammah's priorities include:
Educating his patients and their families.

Getting to know and creating trusting relationships with his patients.

Inspiring his patients and his team.
Dr. Mammah's compassionate and patient-centered approach allows him to understand that every patient is different. As a result, he can easily adapt to each patient and in turn, address and manage their specific concerns. He is very passionate about both dentistry and people, allowing him to provide current-evidence-based dentistry in addition to, ensuring your upmost comfort while doing so.
"Over my many years of practice, I've learned that my patients are more than just a specific dental-concern. They are people with stories and passions. In addition to providing modern clinical dentistry, I believe that people deserve to be listened to and acknowledged, both of which are essential in delivering excellent dental care."
Dental Services Offered
Dr. Mammah is a Kanata-based dentist who provides comprehensive dental services through his vast continuing education background. In addition, general dental procedures like fillings, crowns, root canals and extractions, Dr. Mammah's focus is also on more complex surgical procedures like the placement of dental implants, bone & gum grafting and wisdom tooth removal. He loves treating patients of all ages and even offers oral and nitrous sedation for patients who are anxious before procedures.
Education and Professional Affiliations
Dr. Mammah continues to participate in continuing education courses very regularly to make sure he is up-to-date with the latest clinical procedures and information.
Dr. Mammah's educational experiences and professional memberships include:
Bachelor of Science (BSc): Honors Specialization-McGill University

Doctor of Dental Medicine (DMD)-McGill University

Certificate in Advanced Education in General Dentistry (AEGD)-University of Rochester

Certificate in Basic Implant Residency (both surgical and restorative disciplines) – The Institute for Dental Excellence (TIDE inc)




• Active Member of the Canadian Dental Association




• Active Member of the Ontario Dental Association




• Active Member of the Royal College of Dental Surgeons of Ontario




• Active Member of Ottawa Dental Society
Outside of Dentistry
Dr. Mammah loves music (he plays both electric and acoustic guitar), hockey & soccer (he is an avid Montreal Canadiens and Liverpool fan), exercise, travel, cooking, and spending time with his wife & daughter. Dr. Mammah speaks English and Moroccan Arabic fluently, as well as, French at an intermediate level.