Having discoloured teeth can make you want to hide your smile when you should be showing it off. It's time to get a smile that you're proud of. Dr. Ami Barakat of Villanova Dental Studio, a cosmetic dentist in Ottawa, ON, discusses the options available at our office to treat discoloured teeth.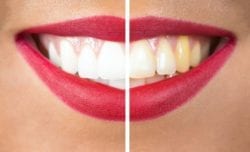 Professional Teeth Whitening
This is most likely what you think of when you think of taking care of your discoloured teeth. Over the counter products are often one size fits all. This can lead to an uneven treatment and possible gun sensitivity if the bleaching agent comes into contact with your gums. Professional teeth whitening is personalized to every patient to avoid these problems.
At Villanova Dental Studio, we're proud to offer Iveri teeth whitening. In just 20 minutes, you can get a smile that's up to 8 shades whiter. It's also designed with a gel that's sweet and doesn't leave a bad taste in your mouth when your treatment is over. To start, your dentist will give you a thorough dental cleaning to make sure the whitening process is even and smooth.
Then, the gel is put in a special plastic whitening tray that's applied to your teeth. A special light is used to activate the hydrogen peroxide and carbamide peroxide that are the bleaching agents in the gel. In 20 minutes, you'll have a whiter smile! If you want a whiter shade than is accomplished in one session, the dentist will talk to you about further treatment options.
Porcelain Veneers
There are certain cases where traditional methods of teeth whit
ening don't work. This includes discolouration that comes from a "dead" tooth or stains caused by certain medications. Porcelain veneers are an ideal solution. They're made of a thin shell of high-quality dental ceramic that goes over the front and sides of the tooth. Veneers are designed to be durable and stain-resistant, lasting for years to come.
For veneers, the first step is to remove some of the tooth structure on the front of your tooth. This is to make room for the veneers and ensure they look natural. Impressions are made of these teeth so the veneers can be customized. When they're ready, the dentist will fit them to your teeth and ensure they're comfortable and look the way you want. Once you're satisfied, the veneers will be permanently bonded to your teeth.
Dental Bonding
If you're looking for an economical solution or aren't ready for a permanent restoration, dental bonding may be the option for you. The bonding material is made of a composite resin that can be color-matched to the rest of your smile. It's malleable and easily shaped, meaning that it can take care of cosmetic chips on your teeth too.
A minimal amount of tooth structure will be removed from the front of your tooth to make sure the bonding material adheres properly. The dentist will mold the material onto the front of your tooth. When both of you are happy with the way it looks, a special light will be used to cure and harden the resin. It's then polished to make sure it matches the sheen of your natural teeth.
Whitening Your Teeth With Your Ottawa, Ontario Cosmetic Dentist
We're here to help you get the smile you've always dreamed of. Call us or schedule an appointment online to get started.