When you have a full arch of teeth missing, dentures are often the first thing you may think of. But removable dentures come with a lot of drawbacks. Implant-supported dentures are the solution. Dr. Ami Barakat of Villanova Dental Studio, a family dentist in Stittsville, ON, answers frequently asked questions about implant-supported dentures.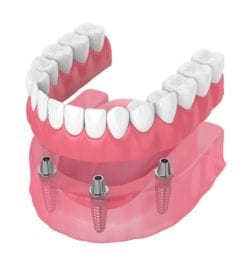 Frequently Asked Questions: Implant-Supported Dentures
Q: What are traditional dentures?
A: Traditional dentures are what you usually think of when you think about dentures. They're removable and are typically held in the mouth with adhesive. Dentures are taken out at night so that they can be soaked and cleaned properly. They don't give you back full bite function and are at risk of slipping or falling out.
Q: What are implant-supported dentures?
A: In contrast, implant-supported dentures are fixed dentures that aren't removable. Instead of being held in place with adhesive, a number of dental implants support the denture. Typically, around 4-6 implants are used, depending on the bone structure in your mouth. You don't have to worry about taking them out and they're cleaned like you would brush your natural teeth.
Q: What are the advantages of implant-supported dentures?
A: Dental implants are often considered the gold standard of tooth replacement. However, many people balk at the price tag, as they're more expensive upfront than traditional dentures. Implant-supported dentures give you the best of both worlds. Fewer dental implants mean a lower cost, while you still get the benefits that come with implants.
Implants are the only dental restoration that replaces the tooth root. When implant posts are placed in the jawbone, they spur bone regeneration, preventing further bone deterioration and helping to reverse deterioration that's already occurred. You still get the benefits of this, even without a full mouth of implants.
With implant-supported dentures, you also get more of your bite function back. You don't have to worry about them slipping or falling out when you're eating or speaking. More foods can be enjoyed because implant-supported dentures can handle them. You also don't have to worry about the extra maintenance that usually comes with dentures.
Q: What do implant-supported dentures feel like?
A: Another great thing about implants or implant-supported dentures is the fact that they feel the most like natural teeth. Traditional dentures feel different and can take some getting used to. That isn't the case when they're implant-supported. They're stable and feel like your natural teeth when you're using them.
Q: Am I eligible for implant-supported dentures?
A: While many patients can get implant-supported dentures, not all can. In our office, we'll evaluate your oral health and bone structure to see if implant-supported dentures will work for you. In some cases, a bone graft can be done to ensure you have enough bone structure to support the dental implants.
Family Dentistry in Stittsville, Ontario
Family dentistry means that we cover every member of the family — and all ages! If you think you're a good fit for implant-supported dentures, call us or schedule an appointment online.