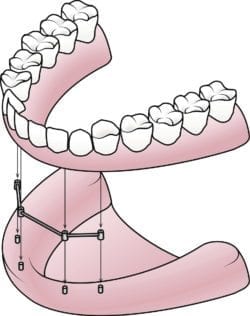 Dentures have long been the standard treatment option when replacing a full arch of teeth, or a full set of teeth. Dentures are traditionally removable, however, with advancements in dental technology dentures can now be secured using dental implants.
Dentures are made from a high-quality material and look and feel like natural teeth. Dentures can help patients enjoy a more varied diet and regain confidence in their smile. There are two types of dentures and both can be secured with dental implants.
Full dentures: used to replace a full top or bottom arch of teeth
Partial dentures: similar to a dental bridge, used to replace several consecutive missing teeth
Dental implant-secured dentures provide added oral health benefits. Implant-secured dentures function and look like natural teeth. Implants help to maintain the structure of the jaw bone for a more stable oral foundation. Implant-secured dentures also eliminate the need for daily adhesives and slippage.
Your Villanova dentist will evaluate your dental health and spend time discussing your budget, cosmetic goals and lifestyle to determine which denture option will be best for you. The procedure will depend on the type of denture you choose to replace your missing teeth.
If dental implants are to be used in the permanent attachment of your new denture, we will create a treatment plan for the surgical placement of the implant post. Once healed, your new hybrid denture can be secured for a stable, functional smile that will restore your ability to speak clearly and enjoy a normal, varied diet.
Dentures FAQs
A denture that has been damaged or broken is not structurally safe anymore. They can cause more damage to your mouth as well. Dentists recommend replacing dentures that have significant damage over fixing them.
No. Your mouth will be numbed for your comfort, and to alleviate any pain you might be experiencing before the procedure. We can also offer oral sedation options for your comfort. Oral-conscious sedation is perfect for those that need dental anxiety relief.
Yes. You will receive temporary dentures, also known as same-day dentures. We will make sure you don't leave without teeth. It takes some time to create your final restoration, so we give you temporary dentures to wear and use while your new dentures are fabricated at the dental lab.
You're missing teeth, and you would like to explore your options. Have you considered dental implants for replacing missing teeth?
Dental implants remain one of the most natural looking, durable tooth replacement options available. They are designed to replicate the tooth root by being surgically implanted into the healthy portion of the jaw bone. Dental implants then fuse with the jaw bone during a process called osseointegration.
Once fused with the jaw bone, the dental implants are ready to support a dental crown, denture, or dental bridge. The final prosthesis is dependent on the number of missing teeth and their location in the mouth.
Full-Service Dental Implants in Ottawa
Dr. Barakat of Villanova Dental Studio is a highly trained implant dentist in Ottawa, Canada. He has completed extensive postgraduate training in Implant Dentistry. Dr. Barakat's advanced training affords him the skill and knowledge needed to handle all aspects of the dental implant procedure, from the surgical portion to the final prosthesis.
Are Dental Implants Right For You?
Typically, dental implants are ideal for patients who are missing one or more teeth but also have an adequate amount of healthy bone structure to help support the implant post. However, there are services available to help patients who are not typically ideal candidates for dental implants receive the dental implant procedure.
For instance, patients can undergo sinus lift augmentation, bone grafting, implant site development to improve their chances of having successful dental implant surgery.
If you would like to determine if dental implants are right for you, Dr. Barakat can assess your dental health and develop a treatment plan that best suits your needs. We provide comprehensive dental services for patients in Kanata, Ottawa, Stittsville, and Richmond, ON. Visit us today.