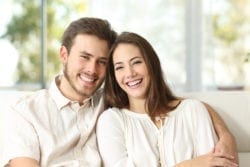 Ottawa dentist Dr. Ami Barakat leads a team of highly trained dentists, hygienists, and staff. At Villanova Dental Studio, our team is committed to providing exceptional patient care and advanced dental treatment. We are dedicated to undergoing continuous education to stay at the forefront of dentistry. Through continuous education, we are able to provide our patients with the latest treatments, technology, and treatments in dentistry.
Our Vision
At Villanova Dental Studio we strive to ensure that every patient is provided with the best quality care and service. We believe that it is essential to actively listen and to provide our patients with the knowledge necessary for them to make empowered decisions regarding their oral health.
Our mission is to establish a long-lasting relationship of trust and comfort between our team and our patients. Villanova Dental Studio strives to provide exceptional modern dental care for all generations. Through public involvement and outreach, we will continue to grow and foster our relationship with our patients and the wider community. Above all, we will honour others before ourselves, and provide you with dental care to enhance your life. Together as a team, we can accomplish the smile you desire.
Patient Reviews
"I am thrilled with the attention, service, and outcome of my visit(s) to Villanova. Circumstance caused me to seek out Dr. Barakat because of an untimely broken crown. While I was in process of embarking on the option of an implant, his second opinion gave me the option that meant no major surgery, no long healing time and temporary fixes in place and reduced costs. No only am I thrilled but my wife is very happy that I've got a permanent fix to the front tooth; she keeps saying "let me see that smile again". Villanova / Dr. Barakat – I would highly recommend." –Ken A.

"I highly recommend him (Dr. Ami Barakat) to anyone who wants an excellent dentist and a warm, welcoming experience. He really cares for his patients and you will get the best treatment. He will not recommend anything that you do not really need, and he will explain patiently and clearly your options and the reason you should choose a solution over another. Best thing is they have TV's mounted to the ceiling so you can watch while they do your teeth!" –Michelle M.

"I have had great care thus far. I was an urgent patient requiring an extraction and bone graft for an implant. The office is modern with digital x-ray, nitrous gas, panoramic x-rays and comforts like drinks, blankets pillows. The office works well with insurance issues. The treatment plan is well thought out and explained. I have used several dentists in the area and this is far superior to most. They also use high-quality crowns, not the lower quality crowns. The office staff is also great." –Maple L.
Schedule An Appointment
If you would like to learn more about our services, you can visit our Stittsville, ON dentist office. The Villanova Dental Studio offices serve patients in the Ottawa, Ontario area, including Stittsville and Kanata. To schedule an appointment, contact our office or schedule an appointment online.