Custom Sports Mouthguards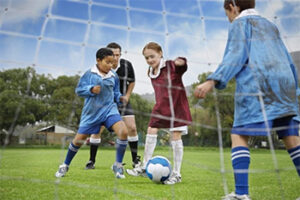 Our Ottawa, ON dentists offer custom sports mouthguards for patients of all ages. Custom fit mouthguards offer superior protection in comparison to over-the-counter options. They significantly reduce orofacial injuries while properly worn.
Patients of all ages should consider getting a custom mouthguard if they participate in contact sports. Sports-related injuries are a leading cause of tooth loss, and jaw damage. Villanova Dental Studio is your local dental partner for long-term oral care.
Teeth do not grow back. Protecting them is an investment in your long-term oral health!
Many athletes can perform better while wearing a custom designed mouthguard. Over-the-counter mouthguard options are often frustrating as they may slip or fall out while on the field. They come in standard sizes that are difficult to get used to wearing. On the other hand, custom fit sports mouthguards offer better protection with a more precise fit.
Athletes are able to focus more on the game, and not on keeping their mouthguard in place with a clenched jaw. Custom mouthguards make it possible to speak and drink normally while wearing the device. They reduce the chances of your young athlete removing and misplacing it during games or practice because of discomfort.
Mouthguards Procedure
Getting fit for your mouthguard is a painless and relatively quick procedure. Your dentist in Stittsville Ottawa will begin by taking molds of your teeth. The molds will then be used to fabricate your personalized mouthguard. We will send those molds to a specialist to fabricate the device. It is made of a soft plastic material that will fit securely in the mouth.
Once fabricated, you will return for a fitting and final adjustments. Custom mouthguards are superior to retail store products. We only use the best brands and highest quality materials.
Mouthguards are a simple way to protect the investment you make in your, and your children's oral health. Custom mouthguards can protect metal braces from becoming damaged or broken. They can also protect your teeth and gums from becoming damaged by your braces during sports.
Caring for Your Custom Mouthguards
In order to keep your new mouthguard in tip-top shape, it's important to maintain them on a regular basis. With proper care, your mouthguard will keep your teeth safe for a very long time. Here are a couple of tips you should follow to keep it fresh:
Wash with soap and room temperature water after every use.
Avoid exposing the guard to extreme heat or cold.
Rinse your mouth and teeth guard before use.
Store your mouthguard in a safe place while not in use.
Never use harsh chemicals or bleaching products to clean them.
FAQs
No. Although custom mouthguards and night guards for teeth grinding may look similar, they are built with two very different purposes in mind. Custom mouthguards will help you absorb shock to your teeth during sports-related hits. They are not meant to be worn to stop teeth from constantly grinding with each other. This will damage the mouthguard and not be effective anymore. Night guards for teeth grinding are more sturdy and greatly reduce teeth grinding habits at night.
Sports mouthguards should be replaced at least once a year. Custom mouthguards are made to fit your child's teeth at the time of fabrication. Although, your child is still growing and their teeth and mouth grow fast, so mouthguards should be changed out after every ports season to prevent damage to their young developing mouths.
Yes, it is actually very important to wear a custom mouthguard if you play sports and have braces. We can actually make mouthguards specifically for patients with braces to protect them from impact. Braces are an investment, and should be protected as much as natural teeth.