Did you know that crooked teeth can cause more than just appearance issues?
Crooked teeth are a common dental concern that presents both cosmetic and oral health complications. Crooked teeth can impact a patient's self-confidence, and may prevent patients from being able to properly clean their teeth. Patients with crooked teeth often experience excessive wear and damage to their teeth, as well as other TMJ related pain symptoms.
Ottawa dentist Dr. Ami Barakat is highly trained and experienced in orthodontic treatments that correct malocclusion and realign crooked teeth. Dr. Barakat has dedicated his advanced education hours to orthodontic and neuromuscular dental procedures in order to provide the most modern and comprehensive dental care.
Dr. Barakat is also highly experienced in diagnosing TMJ symptoms and TMJ pain caused by crooked teeth and malocclusion. He offers many TMJ treatment options for people suffering from a TMJ disorder.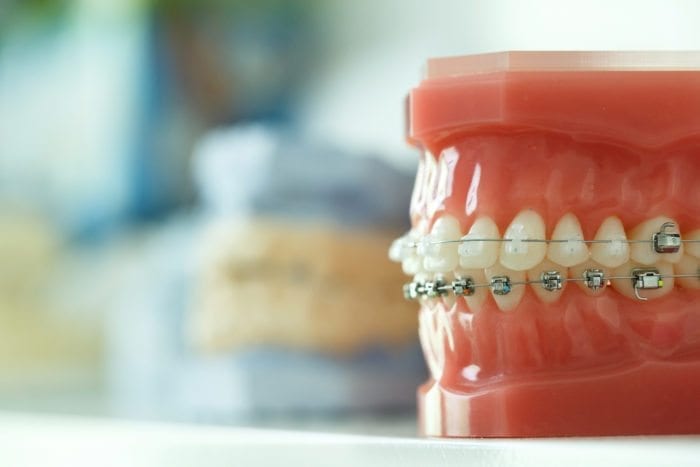 Full-Service Orthodontic Treatment
Dr. Barakat offers full-service orthodontic treatments for patients of all ages in our Stittsville dentist office. Your dentists in Stittsville ON at Villanova Dental Studio encourage patients to begin orthodontic screenings as young as age 7. Early treatment often allows for conservative treatment that could even prevent the need for braces later in life.
Dr. Barakat provides multi-phase treatments for young patients that show signs of early teeth misalignment. Multi-phase orthodontic treatment is a process that combines teeth straightening and physical changes that happen naturally as children age. Multi-phase treatment maximizes the opportunity to accomplish the optimal healthy, functional and aesthetic result that will remain stable throughout their life.
Dr. Barakat incorporates oral appliances, metal braces, and Invisalign for adults and teens when needed for the best long term result. Using the latest in orthodontic technology, Dr. Barakat can give you the most effective and efficient results.
Metal Braces
Myobrace
Invisalign
Orthopulse
Early treatment
Multi-phase treatment
Looking for a more conservative treatment option for one or two crooked teeth? We also offer cosmetic dental treatments that can hide the appearance of a single crooked tooth. These options are usually given if we determine that your crooked tooth is strictly a cosmetic concern. Options may include porcelain veneers, dental bonding, and dental crowns.
It is never too late to straighten your teeth and regain confidence in your smile. From early treatment to adult orthodontics, Dr. Barakat can help patients of all ages restore beauty, function, and health to their bite.
OrthoPulse® For Accelerated Results

OrthoPulse is a state of the art technology that speeds up orthodontic treatment for faster results. Using Near-infrared light, OrthoPulse speeds up cell metabolism and boosts the body's natural healing response. The energy produced by OthoPulse helps to shift teeth into alignment in less time than with just the use of traditional braces. OrthoPulse can be used in combination with any braces system.
Crooked Teeth FAQs
What causes teeth to grow crooked?
Teeth may grow crooked for a variety of reasons. The most common reason teeth are crooked is because of loss or decay or a tooth. When this occurs the surrounding teeth shift to fill space, causing misalignment.
Will crooked teeth straighten out?
In some cases teeth may appear to be coming in crooked, and straighten out over time. Many patients undergo orthodontic treatment at an early age to align crooked teeth and prevent malocclusion as they get older.
Is fixing crooked teeth necessary?
Fixing crooked teeth is not necessary, however it is highly recommended for a variety of reasons. Fixing crooked teeth boosts patients confidence, improves speech, and function of one's teeth and jaw.