Are your teeth yellow or stained? Teeth darken with age, so sometimes there is little you can do. Fortunately, your dentist in Stittsville, Ottawa can brighten your smile in as little as one visit with modern dentistry.
Stained, yellow or darkened teeth can detract from the aesthetics of your natural smile. Ottawa dentists of Villanova Dental Studio, offer teeth whitening treatment options in Stittsville that can restore a brighter, more confident, and youthful looking smile.
Whiter teeth not only boost your confidence, they could even change the way others perceive you in both professional and social settings. Your Villanova Dental Studio dentist will help you determine which teeth whitening option will meet your cosmetic dentistry goals.
You read correctly, we offer patients multiple options to whiten their teeth! We offer professional teeth whitening systems, as well as permanent cosmetic treatments for more difficult stains. This can include stains caused by trauma, medication, or genetics.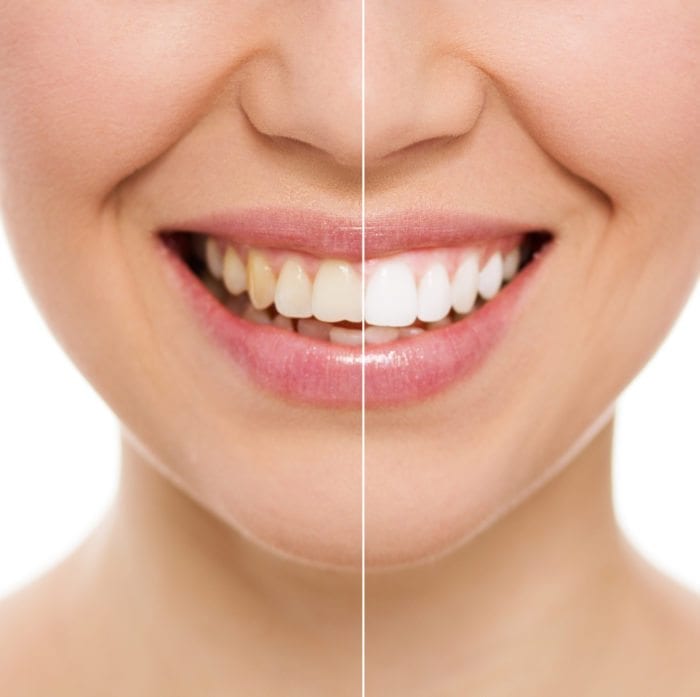 Teeth Whitening Options in Kanata, ON
Your Ottawa dentist will evaluate the cause of your tooth discolouration after a thorough dental exam. We will discuss your cosmetic goals to determine which teeth whitening treatment will provide optimal results.
Iveri Teeth Whitening: In about just 1 hour, you can have teeth up to 8 shades whiter. Iveri is an in-office whitening gel and light system that will comfortably whiten and brighten your teeth. The Iveri hassle-free whitening system involves no impressions, no long dental visits, and causes no teeth sensitivity.
Take-home Teeth Whitening: Custom-fit trays are used to apply professional grade whitening gel to teeth from the comfort of your own home. Patients enjoy a gradual and natural-looking whitening process. This involves receiving biweekly teeth whitening kits to use on a routine schedule. You may still be asked to come into the office so that your dentist can check-in on your progress.
Porcelain Veneers: Tooth stains resistant to bleaching kits or in office whitening may require porcelain veneers. They are permanent dental restorations that cover the front and sides of a tooth and are extremely durable. Porcelain veneers are ultra-thin, shell-like coverings for your teeth that will look and feel like a natural tooth.
Cosmetic Bonding: Bonding is an ideal alternative for patients not ready to commit to the permanence of porcelain veneers. Cosmetic bonding can be used to correct minor discolouration. Bonding requires little tooth preparation and is bonded to your natural teeth for a quick, economical cosmetic solution.
Discoloured Teeth FAQs
How can I whiten my yellow teeth from home?
There are many over the counter whitening rinses available to brighten the color of one's teeth. When the compounds in whitening rinses hit the teeth they begin to lift any staining. It is recommended to rinse for 1 minute everyday. You can also buy whitening strips and apply them to the surface of one's teeth.
Does salt whiten teeth?
Salt can be known to whiten teeth, but it can also damage your teeth in the process. The way that salt is known to whiten teeth is by physically scratching against their surface and damaging and removing enamel. Once enamel has been damaged it cannot be replaced so this can cause permanent damage.
What is the leading cause of yellow teeth?
Yellow teeth can be caused by many factors that may contribute to the overall discoloration of one's teeth. Diet is one of the leading contributors when people are experiencing yellow teeth. Certain drinks such as coffee, soda, and wine are known to stain the surface of the teeth. One way to combat this is to drink these beverages through a straw, or refrain from drinking them entirely.
Smoking can also cause yellow teeth. If you are a smoker with yellow teeth, stopping smoking can restore your teeth back to a whiter color. Another cause of yellow teeth is poor oral hygiene. Many patients can fix this with more intense oral care routine, and fluoridated mouthwash.
Why do teeth darken?
It doesn't happen overnight. Teeth darken over time under the right conditions. Yellow teeth can be a product of bad oral habits such as not brushing enough times a day. Other contributors to yellow teeth include:
Smoking cigarettes on a regular basis
Other tobacco products
Prescription medications
Drinking coffee or wine on a regular basis
Excessive fluoride exposure
Natural stains from aging
Chemotherapy