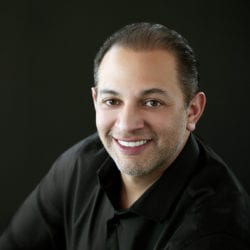 Dr. Barakat is able to provide his patients with extensive evidence of their excellence through his philosophy, education, and outstanding services. He demonstrates his passion for his work through continuing education and commitment to providing each patient with the latest cosmetic dentistry and general dentistry treatments available.
Philosophy
Dr. Barakat's priorities include:
Patient safety and education at a personal level
Loyalty and trust to and from his team and patients
Going above and beyond standard dental care requirements
Dr. Barakat highly values patient education. At the Villanova Dental Studio, we make it our goal for you to understand each procedure you receive, and we will always take the time to answer all of your questions thoroughly and accurately. To accomplish this, we spend as much time as necessary to make sure you feel comfortable about your procedure.
Patient education is one way that Dr. Barakat has built a relationship with the residents of Ottawa over the last few years. As a Kanata dentist, his emphasis on patient loyalty ensures that you are not just another patient to the Villanova Dental Studio team, but a valued guest.
"If there's a better way I can serve my patients, I owe it to myself and I owe it to them to treat them with the best knowledge mankind has to offer."
Dental Services Offered
Dr. Barakat is a Kanata dentist who has undergone extensive training in order to provide his patients with the most comprehensive cosmetic dentistry services available. Because he has undergone additional training, Dr. Barakat is qualified to perform complicated procedures including dental implants and neuromuscular dentistry.
Education and Awards
After graduating from dental school, Dr. Barakat has continued his personal training and education in order to provide his patients with the most advanced treatments available. He has also received several prestigious awards in recognition of his talent, achievements, and passion for excellence in dentistry.
Dr. Barakat's educational experiences, professional memberships, and awards include:
University of Toronto Faculty of Dentistry graduated with honours
One year residency at the Royal Victoria Hospital in Montreal
Multidisciplinary Dental Residency Program
Member of the Canadian Dental Association
Member of the Ontario Dental Association
Member of the Royal College of Dental Surgeons of Ontario
Member of Ottawa Dental Society
Member of the Canadian Association of Cosmetic Dentistry
Fellowship at The International Association of Physiologic Aesthetics
Fellowship at the Las Vegas Institute for Advanced Dental Studies
Fellowship at the Academy of General Dentistry
Advanced Cosmetic Dentistry Training from the Las Vegas Institute
Forty Under 40 Award" from the Ottawa Business Journal
Please contact our Kanata cosmetic dentist today at the Villanova Dental Studio offices to schedule your initial consultation. Dr. Barakat serves patients in Ottawa, Ontario.