Dr. Mammah has been a dentist at Villanova Dental Studio since 2016. Although born in Montreal, Dr. Mammah actually grew up in Vancouver, BC. The amazing outdoors and sushi was not enough to keep him there as he moved back to Montreal where he received both his BSc (2010) and DMD (2014) degrees at McGill University.
After completing dental school, Dr. Mammah decided to further enhance his knowledge and clinical experience by completing a Post- Graduate residency program at the University of Rochester in New York State. Even now, Dr. Mammah still participates in continuing education courses very regularly in order to make sure he is up to date with the latest clinical procedures and information.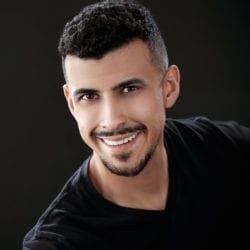 Dr. Mammah enjoys performing all aspects of dentistry whether its wisdom tooth surgery, gum grafting, dental implant therapy, crown and bridge or even standard fillings. He loves treating patients of all ages and even offers oral and nitrous sedation for patients who are anxious.
"I believe myself to be very compassionate and patient-centered. I understand that every patient is different and as a result, I am very good at adapting to each patient's needs as well as addressing their specific concerns. I'm very passionate about dentistry and because of that, I always strive for perfection."
PROFESSIONAL AFFILIATIONS
• Certificate in Basic Implant Residency (both surgical and restorative disciplines) – The Institute for Dental Excellence (TIDE inc)
• Certificate in Advanced Education in General Dentistry (AEGD)-University of Rochester
• Doctor of Dental Medicine (DMD)-McGill University
• Bachelor of Science (BSc): Honors Specialization-McGill University
• Active Member of the Canadian Dental Association
• Active Member of the Ontario Dental Association
• Active Member of the Royal College of Dental Surgeons of Ontario
• Active Member of Ottawa Dental Society
Outside of Dentistry, Dr. Mammah loves music (he plays both electric and acoustic guitar), hockey & soccer (he is an avid Montreal Canadiens and Liverpool fan), exercise, travel, cooking, and spending time with his wife & daughter.  Dr. Mammah also speaks English and Moroccan Arabic fluently as well French at an intermediate level.