Villanova Dental Studio in Kanata, ON offers Invisalign® to their patients to gently realign crooked teeth and bites. Dr. Ami Barakat is an Elite Invisalign® provider with years of training and experience in the science and technology behind the Invisalign® treatment planning and process.
Invisalign® is an orthodontic treatment that is comfortable, convenient and virtually unnoticeable. A custom set of invisible aligners provide patients with straighter and healthier smiles. Invisalign® are clear braces that offer a convenient, discreet and comfortable option for teen and adults.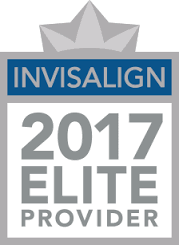 Invisalign® has been used by millions of patients because it is safe, effective, and convenient. Invisalign® is for patients needing mild to moderate orthodontics for both cosmetic and dental health concerns. Invisible braces alleviate many of the hassles associated with traditional metal braces.
Invisalign® is used to treat a variety of orthodontic concerns including:
Tooth crowding
Spaces between teeth
Narrow tooth arches
Underbite or overbite
Crossbite
Invisalign® and TMJ Treatment
Kanata, ON dentist, Dr. Barakat, may recommend Invisalign® as a part of a comprehensive TMJ treatment plan to address issues related to malocclusion. Many patients who experience chronic pain associated with TMJ do so because of a misaligned bite or crooked teeth.
Invisalign® can be effectively used to realign under bites, overbites, or crowded teeth for a more comfortable jaw position. Many of our patients have found success in using Invisalign® to relieve symptoms of TMJ such as headaches, jaw pain, and chronic fatigue.
Benefits of Invisalign®
The reason Dr. Barakat's patients prefer Invisalign® to metal braces is that the aligners are thin and clear therefore no one knows you are wearing braces. People also love the fact that Invisalign® aligners are removable, allowing you to eat comfortably, brush and floss normally, and remove trays for special occasions without disrupting your treatment.
Crooked teeth can be a complex oral health concern. Invisalign® can help Dr. Barakat's patients lower their risk of tooth decay, gum disease, and TMJ disorder that is associated with crooked teeth. A few reasons why Invisalign® is a better choice compared to metal braces are:
No dietary restrictions
Easy removal for cleaning and routine dental care
Discreet treatment that takes about a year
No risk of tooth enamel staining from permanently attached brackets
Smooth, comfortable materials used do not irritate the gums and soft tissues in the mouth
The Invisalign® Process
The Invisalign® process begins with dental x-rays taken in our Kanata ON cosmetic dentistry office. Dr. Barakat will use the images of your teeth to create your personalized treatment plan and the images will be sent to the Invisalign® lab. There, a series of custom designed aligners will be created to shift teeth back into proper alignment.
You will receive your first set of aligners that will slowly reposition the teeth. About every two weeks, you will get a new set of clear aligners according to the detailed treatment plan Dr. Barakat creates using your dental impressions.
Your clear braces should be worn for 22 hours a day. This allows you to remove them to eat and continue normal oral hygiene routine.
The length of your treatment and the number of aligners you will require will depend on the severity of your dental concerns and your cosmetic goals. Most patients will complete treatment in 12 months.
Schedule a Dental Exam and Consultation
If you're considering Invisalign® in the Stittsville, ON, Kanata, or Ottawa, contact Villanova Dental Studio today. Schedule an appointment with Dr. Barakat at his cosmetic dentistry office to find out how to get a straighter smile that you've always wanted.