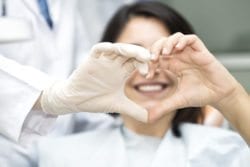 Laser dentistry is an exciting modern technique that can allow an easier recovery from previously invasive dentistry techniques. Laser treatments bleed less and heal faster than traditional techniques. In many situations lasers may eliminate the need for drills, invasive surgeries, and sutures. Laser dentistry be used for cavity treatment, root canals, gum disease and gum recontouring.
How does it work?
Laser dentistry uses an ultrasonic laser to break down hard decay and plaque, or reshape soft tissues. Villanova Dental Studio uses two lasers: the Waterlase™ iPlus Laser, and the Ezlase™ Laser. The iPlus laser can replace a drill in many standard dental treatments. Generating more than 100 pulses per second, the Waterlase affects both soft and hard tissues and works more quickly and gently than a traditional drill. The Ezlase™ laser affects soft tissues and is used to treat periodontal disease. Periodontal laser treatment can eliminate the need for gum surgery in many cases.
What are the benefits of laser dentistry?
Gentler
Faster
Quiet
Highly accurate
Minimally invasive
Less anesthetic needed
Reduced irritation and shorter recovery
Reduced dental anxiety
Is Laser Dentistry Painful?
Laser dentistry can be much less painful than traditional surgical dentistry, and also requires less anesthesia. The recovery time is typically also shorter. That means less pain up front, and less pain after your surgery to minimize the impact your dental care has on your life.
Is Laser Dentistry Safe?
Laser dentistry is a relatively new technique, so many people feel nervous about laser treatment. Dental researchers first started experimenting with lasers in the 1960s. The Food and Drug Administration first approved use of lasers on soft tissues in the early 1990s, and on hard tissue around 1996. Laser dentistry is a safe choice with a record of success.
Schedule an Appointment
If dental anxiety and difficult healing are stopping you from getting the treatment you need, consider laser dentistry. Schedule an appointment with Dr. Barakat at Villanova Dental today online or over the phone at (613) 836-9084.