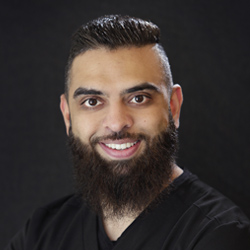 During undergraduate education at Carleton University, Dr. Ahsan Mahmood developed a deep sense of serving the community and volunteered with numerous organizations in Ottawa, while cultivating a meticulous work ethic. He discovered his passion for scientific research during his undergraduate studies. After earning his B.Sc. (Honours) in biology in 2011, he pursued a Master's degree at the Faculty of Medicine in the University of Ottawa, where he did research about heart failure.
Dr. Mahmood's love for art, science, and community service led him to pursue a Doctor of Dental Surgery (DDS) at the University of Toronto. After graduating in 2017, he went on to further his clinical skills by opting for additional 1-year General Practice Residency (GPR) training in the biggest and prestigious training program at the Montefiore Hospital in New York City. As a resident, he developed a deep interest in dental implants and aesthetic dentistry.
Cosmetic dentistry has allowed Dr Mahmood to blend his love of science and the arts while helping improve people's self-confidence by creating beautiful smiles. He provides dental care experience that is amenable to most sensitive patients. He aspires to make oral health accessible to everyone and is a big proponent of patient education and preventive dentistry. He maintains an active lifestyle and enjoys working out and cycling. He loves to spend his recreational time doing outdoor activities with his wife and two adorable daughters.